CYCLING
"Žumberak-Samobor highlands" Nature Park is an area of 342 km2. Cycling is an ideal way to get to know such a spacious park – it's healthy, the range is much greater than walking, the parking space for the bike is – everywhere, the view is 360 °, you have no exhaust and do not pollute the air, you are in direct contact with sounds, smells , forest breeze and views of the surrounding nature. Choose from the offered eleven routes the one that suits you best and enjoy getting to know the Park on two wheels!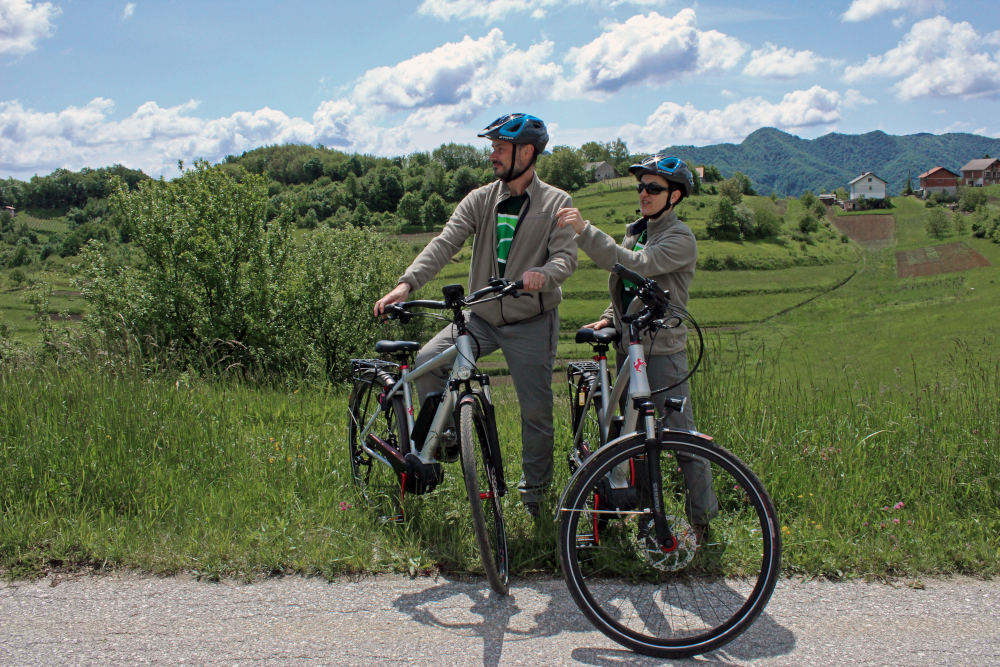 BIKE ROUTES
G Ruta Sv. Gera
V Ruta Vodice
K Ruta Kostanjevac
E Ruta E-bicikala
J Ruta Jelenići
J+ Ruta Jelenići + Slapnica
B Ruta Budinjak
B+ Ruta Budinjak + Japetić
L Ruta Lović
L+ Ruta Lović + Sošice
O Ruta Okić
To make your ride a pleasure, we also offer a few tips:
• Choose a path that suits your physical abilities. Check the condition of the bicycle, especially the tires, brakes and gearboxes.
• If the bicycle is not working properly, DO NOT ride it, but first repair it yourself or have it serviced.
• Bring enough fluids (preferably plain water) and some food (energy bars).
• Bring spare clothes so that you can change in case of rain or sweating.
• Bring spare and waterproof clothing.
• Bring a camera so you can capture memories of beautiful landscapes, plants, animals and mushrooms.
• Stick to existing roads and marked bike paths. Some parts of the trail are very steep and demanding, so use them only if you are completely confident in your riding skills and endurance bike.
• Enjoy nature, but please respect the way of life, work and customs of the local population.
• Many animals, plants and fungi live in the Park area that are endangered and protected, so do not destroy or disturb them.
ELECTRIC BIKES
BUDINJAK
One of the ten electric bicycles can be rented in the Eco-center Budinjak on weekends and holidays, and by the announcement of groups for expertly guided bicycle tours throughout the year.
Working hours of the Eco-center Budinjak
weekends and holidays from 10 am to 5 pm in the period from 1.5. – 30.9.
daily rental price: 100,00 kn per bicycle
Guided bike tours
– up to 4 hours, price per group of up to 9 people: 550.00 kn
– over 4 hours, price per group of up to 9 people: 800.00 kn
Bicycles are intended for adults. You also have the option to rent two child seats (up to 22 kg child weight), protective helmets for children and adults, goggles, basket and saddlebags. Extras are included in the rental price. The height of the bicycles are 52 cm (1 piece), 48 cm (7 piece), 44 cm (2 piece).
Please note! Bicycles are "hybrids", so without independent propulsion. The driver has to turn the pedals, but the battery makes it much easier to move. The battery has several degrees of strength, so that the user uses it, but also ten other classic speeds, to determine how much he wants to use the power of his own muscles, and how much the power of the battery.
Bring an ID card for rent so that our employees can fill out the contract. They will also explain how to ride our electric bikes and recommend interesting routes!
You can also take a virtual tour along one of our most popular route from Budinjak to Sošice.
Information and reservations:
dubravka.kranjcevic@pp-zumberak-samoborsko-gorje.hr
+385 1 3327 677 (Moday – Friday from 8am to 4pm)
+385 1 3385 740 (Saturday, Sunday, Holiday from 10am to 5pm)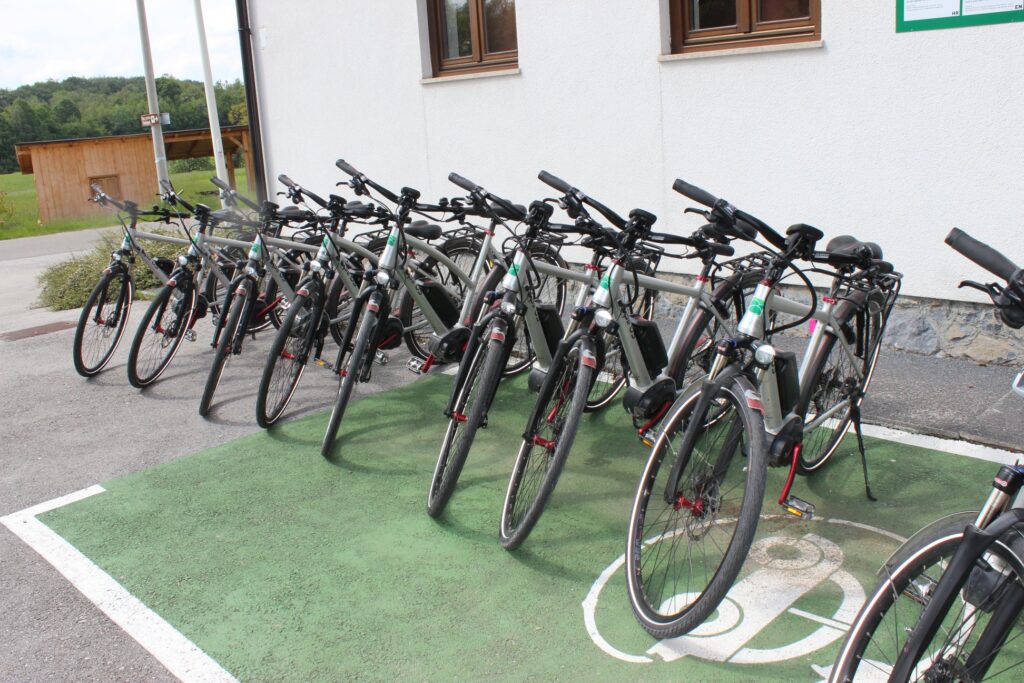 SOŠICE
One of the ten electric bicycles ("fat bike" types) can be rented in Sošice near the visitor center of the Public Institution. The rental system is autonomous and it is necessary to create an account on the Go2Bike page and pay the amount of 25,00 kn for a hourly rental with a credit card. Instructions for using bicycles and how to rent them can be found on the application and the pylon next to the stand of electric bicycles.
Contact:
T +385 (0)1 3327 659
M +385 (0)99 862 1363
E marko.trupkovic@pp-zumberak-samoborsko-gorje.hr