ONE-DAY EDUCATIONAL PROGRAM

"A YOUNG PARK RANGER"

FOR KINDERGARTEN AND SCHOOL-AGED CHILDREN
Park rangers have important role in protected areas. They monitor and take care of nature and environment on terrain. The aim of educational program "A young park ranger" is to teach children to monitor in indirect way through games, learn and engage in group and individual work in order to become aware of environmental and cultural values of their homeland. Our educational programs will train them to become "young park rangers", and some of them might even decide to become real rangers in the protected area!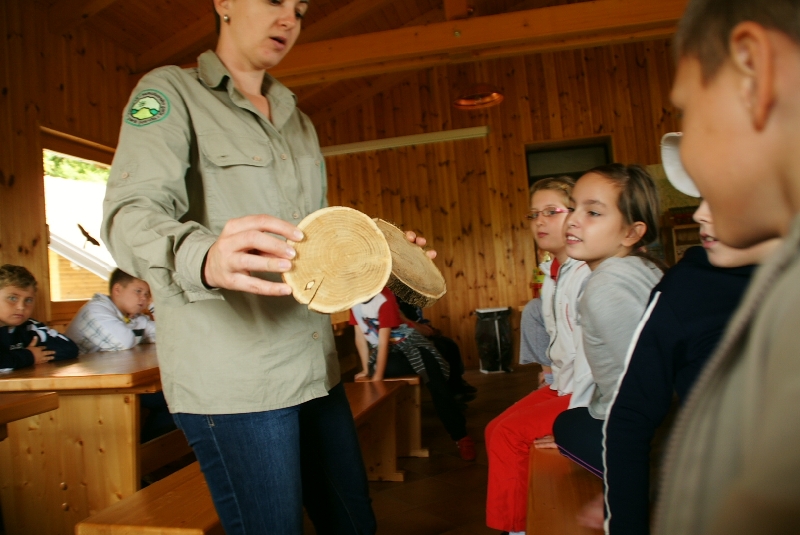 Program takes place in Eco-center Budinjak.
It consists of several parts
1. Walk along the educational trail
2. Independent research with answering work sheets
3. Organizing educational games with the use of gear and tools
The program lasts approximately 5 hours, meal breaks included.
Education – Application form 2020
We kindly ask you to follow these instructions in order to achieve sufficient organizational level and quality of programs
⟩ Announce your group by sending application forms at least two weeks in advance.
⟩ We recommend a group not larger than 60 pupils – one guide-educator works with each group of 30 pupils.
⟩ We expect teachers to help our guides to discipline pupils.
You will find out more details from our education guides!
We look forward to seeing you!
WORKSHOPS
Learn about forest
Children learn about forests and trees they choose through game and investigation and the fill in work sheets and write down their measuring and comments. They "act out" trees, discover new items from forests, count annulations using magnifying glass and determine the points of compass.
Activities
⟩ Find your tree!
⟩ What do growth rings tell you?
⟩ Feeding pyramid
⟩ Mysterious item
⟩ Competition
⟩ From grain to plant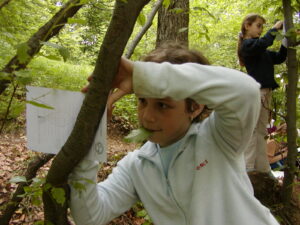 Learn about grassland
By exploring a mountain grassland children learn about diversity of living world – flora, hidden insects and spiders and write their discoveries down in the work sheets. Educational games help them to understand the mutual dependence of living and not-living world, as well as phases in plants development.
Activities
⟩ Little safari
⟩ Find your plant!
⟩ Feeding pyramid
⟩ Mimicry
⟩ From grain to plant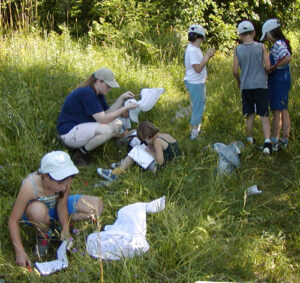 Learn about creek/water pool
Children explore a creek or a water-pool, measure it and write down their results. They catch, microscope and recognize living world and bring their own conclusions about the cleanness of water.
Activities
⟩ Orientation
⟩ Water parameters measuring
⟩ Sherlock Holmes in a creek or a water-poodle
⟩ Feeding pyramid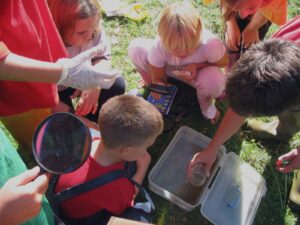 Treasure hunt
Young treasure hunters with the help of compass, map and written note demonstrate their knowledge on orientation in the nature, make own sundials and learn about new GPS technology.
Activities
⟩ Orientation
⟩ What do growth rings tell you?
⟩ Sundial
⟩ Where do satellites travel?
⟩ Treasure hunt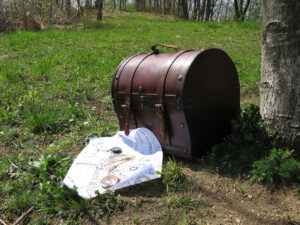 Young meteorologists
Children make handy measure instruments, use them for measuring and monitoring in the field and write down their notes in the work sheets. It will help them predict weather forecast. Experiments carried on by educator – guide will demonstrate the physical laws in the atmosphere.
Activities
⟩ Making measure instruments
⟩ Meteorologist measuring
⟩ Let's count visibility
⟩ How do clouds, rain, rainbow … develop?
⟩ What do growth rings tell you?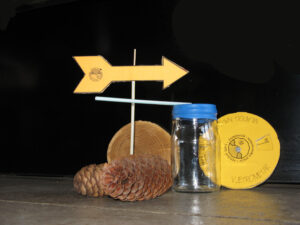 Eco-playroom (kindergarten – 1st grade)
Kindergarten and the youngest school-age children learn about nature through funny games – about the living world in grassland and forest, they guess the hidden animals and objects using their senses and color the drawings from nature.
Activities
⟩ Little safari
⟩ Feeding pyramid
⟩ Guess who I am – picture book of hidden animals
⟩ Mysterious item
⟩ What do growth rings tell you?
⟩ Coloring book